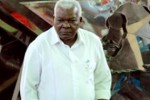 Cuban Vice President Esteban Lazo fulfilled a busy diplomatic agenda during his recent visit to the Dominican Republic, where he met with the newly sworn-in president, Danilo Medina.
The dignitaries discussed the status of bilateral relations and confirmed their interest to further strengthen diplomatic and economic partnership between the both Caribbean nations.
Earlier, Lazo briefly met with outgoing president, Leonel Fernandez, who praised the degree of mutual understanding reached during his tenure.
The Cuban official arrived Wednesday in the Dominican Republic to attend the presidential inauguration of Danilo Medina.  Lazo also held talks with the president of Haiti, Michel Martelly, who also attended the inauguration of Medina.  Cooperation in the fields of health and education was the focus of the meeting.
Similar issues were also discussed by Lazo with the foreign ministers of the Bahamas and Guatemala.
During a reception that Medina offered last night to guests from 75 countries and international organizations at the National Palace, Lazo wished the new president of the Dominican Republic success.