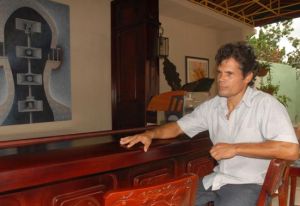 Simplicity, good taste, and elegance are distinctive features of the cafe-teatro which was built annexed to the Teatro Principal (Principal Theater), in Sancti Spiritus. The cultural facility intends to host stage-related activities, and to allow meetings between intellectual and the public.
It was such said by Vladimir Osés, local artist who was closely linked to the project since its very beginning, and who insists to remark the support received from the corresponding authorities.
"The idea was to recreate colonial architecture patterns. The place has been decorated with the works of art from several local artists, especially juvenile ones", he said. "All the furniture and the bar were made manufactured in the territory", he added.
The facility is not meant to dance and can room 40 persons.