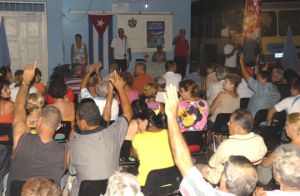 The heterogeneity in composition characterizes the group of 1506 candidates for delegates to the Municipal Assemblies of the People's Power proposed during the nomination process already completed in this central Cuban province.
This is a transcendental stage of the present elections to have its peak on October 21st, when Sancti Spiritus voters will choose their 696 representatives to the 8 local government bodies in the territory.
This time women make up the 31.74% of the elect, a figure which, although below the national average, distinguishes them for their sensitivity to the problems of everyday life, their cultural preparation and vocation of serving the community.
Orelve Jacomino Ramos, president of the Provincial Electoral Commission, detailed the quality of the nomination and emphasized the human qualities and values ​​of these candidates, among which outstands a greater number of young people under 35 years, while it is appreciated the support of the voters to their current delegates when the 32.74 % of them were nominated again.
Starting next Sunday, noted Orelve, photos and biographies of the nominees are to be displayed in public places, for the information of those who exercise the suffrage. He also recalled that voter lists have already been exposed to encourage those still unregistered, for any reason, claim and give effect to their incorporation, as well as to correct in time any wrong data, exclusion or inclusion.