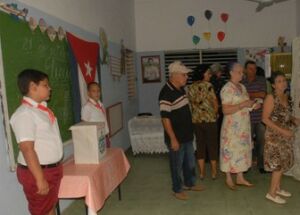 When the 696 delegates elected in the eight municipalities of the Cuban central province of Sancti Spiritus take up their positions on Sunday, the 15th Mandate Period for the Municipal Assemblies of the People's Power will begin.
In the first and second stages carried out on October 21st and 28th, the people in the territory were involved in the crucial commitment to choose who will lead the local government in the districts for the next two-and-a- half-year term.
Once completed the period prescribed by law, these local bodies of the Cuban state, invested with the highest authority in the exercise of their duties, will also meet to elect, through secret ballot, their president and vice president.
More than 400 new delegates make up these assemblies, currently fueled by youth, women, workers, farmers, professionals and by that multiethnic group that characterizes Cubans. They, along with those who were renovated, are to keep sworn loyalty to the Fatherland, observe and enforce the Constitution, laws and other legal norms; behave as faithful servants of the people and the community, and meet the obligations imposed on the charge for which they were elected.
Previously, some work have been done by the Candidacy Commissions (CC) constituted at that level, which have among their powers to prepare and submit proposals for candidates for delegates to the Provincial Assemblies of the People's Power and deputies to the National Assembly of the People's Power.