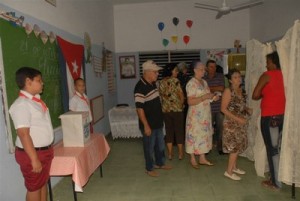 More than 40,000 voters in Sancti Spiritus province, in central Cuba, will return to the polls on Sunday in a runoff to elect delegates to the Municipal Assemblies of the People's Power.
The Electoral Act provides that given the case of a runoff , if it is a draw, only the candidates who were tied in the first vote will participate, and if none reached more than the 50 percent valid, then the two nominees who received the most votes will remain.
With the exception of La Sierpe, 110 stations will open in all municipalities to have a second vote.
Orelbe Jacomino Ramos, president of the Provincial Electoral Commission, told Escambray that on October 21, a total of 347,707 people in Sancti Spiritus, the 92.54% of the registered voters, went to polls in the first round of the general elections, and 646 delegates were elected, 199 of them were women, a figure which represents the 30.81%, while 281 were confirmed as representatives to the local government bodies.
The leader also referred to the discipline in which all the information flowed to make the different reports, which contributed to the prompt in the computation of the results, while noting that the great majority voted in the Cuban central province.
Jacomino Ramos also talked about the enthusiasm shown by the people while participating in the referendum, as well as its credibility and transparency, backed by a strict compliance with the provisions of the Constitution and the high quality of the vote given by the number of valid ballots which reached the 91.83 % of those deposited in the ballot box, while a 4.54 % of them were left empty and the 3.63 were canceled.