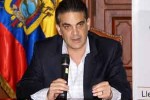 The Ecuadorian Vice Minister of Trade and Economic Integration, Francisco Rivadeneira, highlighted Monday the good political relations with Cuba and the possibility of increasing commercial links.
Rivadeneira specified that "because of the very good political relationship with Cuba, Ecuador can become an important supplier of foods, agricultural products, livestock and industrial agricultural products."
He said that his country is interested in the Cuban tourism industry, because Cuba has one of the best hotel infrastructures in the world, and they require constant provisions of high quality products that Ecuador can supply.
Another sector that Ecuador could promote, he added, is textiles and clothing, as well as construction materials, ceramics, furniture, industrial and non industrial items, and plumbing requirements.
He emphasized that a solution to facilitate the trade would be the use of the Unitary System of Regional Compensation of Payments (Sucre), by means of which the payment is directly guaranteed to the Ecuadorian company by the Central Bank of Ecuador.
The Ecuadorian Vice Minister ratified that with that mechanism and with all the progress made in projecting greater trade, a qualitative jump in the volume, value and quality of trade between the two countries can be expected.
The Andean nation is also interested in buying from Cuba goods and services of high quality, internationally recognized, he emphasized. (Taken from PL).