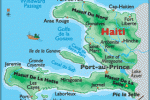 A quake of 3.7 degrees in the open scale of Richter occurred in Haiti Sunday, reported the coordinator of the Technical Unit of Seismology of the local Mines and Energy Office, Claude Prepetit.The telluric movement occurred at 8:03 local time (12:03 GMT) at a depth of 9.7 kilometers (6.2 miles) and its epicentre located at 33 kilometers west-southwest from the Haitian capital.
Haiti suffered the effects of an earthquake on January 12, 2010 that caused the death of more than 300,000 people and left almost 2 million people without a home.
Now, 390,000 Haitians still live in tents and 5,929 families live in bad sanitary conditions as a consequence of the 2010 quake.
The situation is still more dramatic in 23 camps in the metropolitan area of the capital, where the tents are useless, latrines are full of rubbish and wastes and there is not enough drinkable water.
The report said it is easy to find excrements and its remains close to places where people live, and this has serious consequences for their personal health.
At the south of Port-au-Prince affected people are looking for water from a river being used as a place receiving rubbish, and people are still living in improvised places far from receiving basic services for more than 30 months after the quake in 2010.  (Taken from PL)