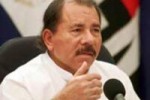 Without the Cuban Revolution there would not probably be any current process of Latin American rapprochement in favor of the peoples, said President Daniel Ortega in a message for the 53 anniversary of the triumph of that emancipatory exploit.
The message, made public by the Council of Communication and Citizenry in Managua, recalls that the victory of January 1st, 1959, marked "the triumphant beginning of Latin American and Caribbean revolutions" in the 20th Century.
Ortega said that Cuba "leads in the quest for justice, goodness, harmony, and above all in regaining those values in the personal, familiar and social lives of our peoples, based on a faith in the human being and in the best future possible."
Ortega highlighted Cuba's moral strength, its solidarity, scientific and cultural achievements, and progress made in social justice, as well as its dignity and tenacity, and the personal examples of Fidel and Raul Castro.
Without that heritage "there would probably not be any current advance in our processes of rapprochement in Latin America," said the message. (Taken from PL).