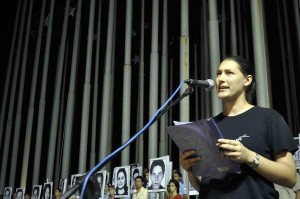 Hundreds of Cubans from all walks of life and representing different generations marked Terrorism Victims Day, October 6, with a vigil in front of the US Interest Section in Havana.
Participants at the vigil demanded the immediate return of Gerardo Hernandez, Rene Gonzalez, Antonio Guerrero, Fernando Gonzalez and Ramon Labañino, who have been held in US territory since 1998 after having been submitted to a biased trial that gave them unfair sentences for having monitored Florida-based terrorist organizations.
The vigil recalled the 36th anniversary of the bombing in mid air of a Cubana airlines jet, which killed all 73 people on board off the coasts of Barbados, on October 6, 1976. The date that was established as Terrorism Victims Day in Cuba.
Youth,students, and workers, gathered at the Park of Flags, held posters with images of some 3 500 Cubans killed in terrorist actions against Cuba, over the past 50 years.
During the vigil, Aylin Labañino, daughter of Ramon Labañino, urged US President Barack Obama to order the return to Cuba of the five heroes, and try Luis Posada Carriles, who masterminded terrorist actions against Cuba, including the bombing of the Cubana airliner.
The Vigil also demanded the end of the over-50-year economic, commercial and financial blockade of Cuba.
[nggallery id=34]