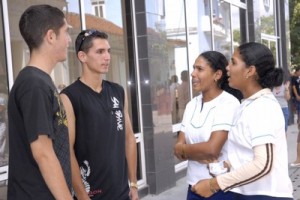 With half a century of life, anyone can start feeling the irreversible step of the years, however, for the Cuban Communist Youth Union (UJC) this time is appropiate to gain experience, commitment and renewal. The League celebrates its 50th anniversary.
Founded on April 4th, 1962, at the suggestion of the Commander in Chief of the Cuban Revolution, Fidel Castro, this is the political organization of the Cuban youth and integrate voluntarily thousands of young people undergoing a process of selectivity.
As the occasion needs to be honored, not with great parties due to the economic situation the country faces, Sancti Spiritus youth celebrates with a sincere appreciation of the youth contribution in each work center and of those who made the Revolution possible.
This April 4th, the Cuban Communist Youth Union (UJC) celebrates the 50th anniversary of its founding and the 51 of the Jose Marti Pioneers Organization, a sort of younger sister. According to the  program organized for the occasion, the 50th Anniversary Coin,  is to be delivered to young people distinguished in their professional career as well as in the political organization.
In the past days, some groups of pioneers went camping with their scouts and carried out cultural activities in their schools. Recreational activities were and are also to be offered for children and young people in different parks and squares of the Cuban central province.
The activities planned also involved a marathon and the delivery of UJC cards to new member sof the organization. In this context, the university carnival was celebrated with a concert on the evening of April 2nd of renowned musician Raul Paz.
Sancti  Spiritus recognizes the commitment of the youth in the territory whose support is crucial in all economic and social fronts prioritized by the country: from the applications of land for farming, food production, the coffee and the sugar harvest, to the recruitment of teachers, the support to the work of beautification of towns and cities and the strengthening of the structures of the political organization.