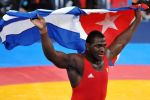 Mijain Lopez remained the Olympic champion in men's 120-kg of the Greco-Roman wrestling after beating Estonian Heiki Nabi for the gold medal in London. Thus, Cuba climbed to the 13th place in the medals standings by country with 3 gold, 3 silver and 1 bronze.
It was all matter of time. Mijain defended his Olympic title. He triumphed without sweating, without upsetting his trainer. Cuba's Lopez had already won the gold in semis, vs. Turkey's Riza Kayaalp, also favorite to go to the finals.
His gold medal made it possible for Cuba to improve the medals obtained in Beijin 2008. Mijain enters history along with Filiberto Azcuy, the only Cuban wrestlers with two titles in the Olympic history.
Taken from Cubadebate/Translated by Escambray