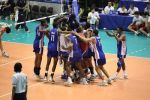 The Cuban men's volleyball team will have to defeat three rivals to get the only ticket to London offered by the pre-Olympic championship in the German capital. The island's group is about to start its fight this morning against the Zcheck Republic.
If predictions are met the collective led by Orlando Samuels will offer their most expected performance against Germany, on Saturday. Four years ago and in similar situation, the Germans beat the Cubans and took the ticket to Beijing 2008.
The Cuban team would also have to face India, considered not to be a very strong rival.
Taken from AIN