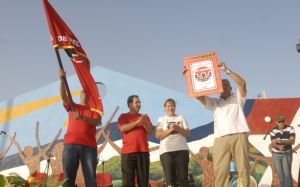 The provincial celebration for the National Rebellion Day began in the early hours of Wednesday morning in the Plaza May Day of  the third Cuban village.
With the lure of the revival of social welfare, as well as the economic and services matters, the municipality of Trinidad was venue last Wednesday of the central commemorations in Sancti Spiritus for the 59 anniversary of the attacks on the Moncada and Carlos Manuel de Cespedes Garrisons,  in Santiago de Cuba and Bayamo, respectively.
Prior to the celebration, on Tuesday, the first secretary  of the Cuban Communist Party in Sancti Spiritus province,  Jose Ramon Monteagudo Ruiz, reopened the Special School Jesus Betancourt, the Municipal History Museum and the Guamuhaya Archaeology Museum, the latter closed for more than 10 years..
The rehabilitation of the Punta Brava Restaurant and of 62 homes in the Callejon del Trecho, with input from the Office of the Curator of Trinidad and the Valley of the Sugar Mills, adds to the constructive actions already finished.
Monteagudo Ruiz highlighted the work of the inhabitants of the southern territory in terms of improving the image of the town and the socioeconomic outcomes achieved in the last stage.
By Arelys García Acosta/Translated by Escambray