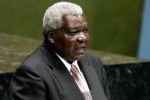 Cuban Vicepresident Esteban Lazo met on Wednesday with Bolivian foreign minister David Choquehuanca, who is paying an official visit to Cuba.
During the talks, Vicepresident Lazo and minister Choquehuanca shared their common willingness to further expand the current excellent relations between their countries, Granma newspaper reported on Thursday.
The top Cuban government official reiterated his country's unconditional solidarity with Bolivia in the face of current destabilizing attempts by right-wing sectors, aimed at thwarting the progress of the South American nation.
The two leaders also addressed issues of international interest during the meeting, which was attended by Bolivian ambassador to Havana Palmiro Leon Soria and by the director of the Latin America division at the Cuban Foreign Ministry, Marielena Ruiz Capote.
Taken from AIN