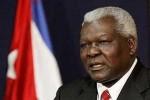 Vice president of the Cuban Council of State Esteban Lazo  attended the Global African Diaspora Summit, where he reiterated the commitment of his country to the peoples of that continent in seeking new ways of collaboration.
During the event held at South African city of Johannesburg, Lazo said that the Caribbean country is in solidarity with the African immigration, broadcast local television.
The vice president also demanded the end of the US blockade on Cuba, a struggle to which the African, Latin American, and Caribbean countries have joined too.
Lazo also mentioned the results of cooperation in the training of human resources and literacy programs, and social development.
In this regard, the vice president said that Cubans, with a strong African heritage, find in solidarity the only way to pay their debt with the African continent.
Cuban health and education professionals are currently working in 35 African nations and young people from 42 African countries are studying in Cuba. (Taken from PL)