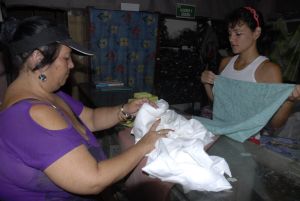 The Cuban state provides with free or subsidized products and additional food more than 5 100 residents in Sancti Spiritus province with chronic diseases, low weight and size and other pathologies.
A free reinforcement diet is given to 1 939 children in the Cuba's central province, who acquired products during the first 10 days of each month in the Commerce units, in addition to the lines of the family shopping basket.
Domingo Chaviano Darias, specialist in Gastronomy in Sancti Spiritus, said to Escambray that since the beginning of this aid program in 2000 to date, there has been a systematic follow-up, which has shown a decrease in the number of cases.
Other 340 people with childhood chronic affections, such as the nephrotic syndrome, Kaposi's disease, congenital deficiency of lactose, growth hormone deficiency, chronic renal failure, cystic fibrosis, diabetes mellitus, celiac disease, primary autism and AIDS, among other conditions, receive special diets, also subsidized in Cuba.
Chaviano Darias added that some 2 341 chronic bedridden patients are also given, without charge, a module composed of 24 laundry soaps, antiseptic wipes, sanitary towels and rubber; aid which has remained stable, even if so far this year the country reported an increase in other 702 people.
These same social cases are guaranteed a share of extra fuel to help maintain their health, which is delivered in accordance to the product traditionally received by their families, ie, gas or kerosene.
Among the priority programs having a country-level support, it is the one designed for the special donors, who are given, every time they perform a blood draw, a dietary supplement consisting of chicken, fish, oil and milk powder, in addition to those coomonly received by them.
The Cuban state also provides HIV-AIDS patients who are outside of the health centers with a strengthening food that includes 24 free cans of sausage and 18 liters of oil in the year, items that add to those they normally receive as part of their medical diet, which shows that in Cuba, despite the current economic constraints, no member of society is helpless.