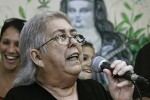 Cuban singer, songwriter and founder of the Nueva Trova Movement Sara Gonzalez, passed away this Wednesday in Havana. Sara González was born in Marianao, on July 13th, 1951 and  made her first attempts on the singing business at the beginning of the 70s.Last December 26th, she said good bye to her fans in her circle "El Patio de la Gorda" ("The Fat's Courtyard") when she said:
"Once I conclude today's performance, all I have left is to wish you lots of nice things, happiness, and health -health above all things- in your life. I wish you to be happy, as happy as you feel whenever you come here. We must give thanks to life for what we're experiencing".
"I've been hospitalized since someday I've already forgotten because I wan to. I had a colon surgery and now I is my turn to recover with the help of those beautiful human beings who work at looked after me at CIMEQ*", she had written in a letter published by Cubadebate web site last September, 2011.
Sara González was born in Marianao, on July 13th, 1951. At the beginning of the 70s, she made her first attempts on the singing business, when she joined "Los Dimos" band and also performed together with Pedro Luis Ferrer.
When she was a student, she met Silvio Rodríguez and Pablo Milanés, who, together with Noel Nicola, founded "The New Cuban Trova". They encouraged her to write the music for Jose Martí's "Versos Sencillos" poems. This became her first long-play record and marked her link with this musical movement, in which she has been considered the female leader voice.
In 1972, she joined the Grupo de Experientación Sonora del ICAIC, led by famous guitar player, song-writer and director Leo Brower. This woman of many talents was also a performer in the Conjunto Nacional de Espectaculos along with Virulo, Carlos Ruiz de la Tejera, Jesús del Valle and several others.
In 1984, she shared her musical work with Guaican, a group of non-professional musicians who became her students and with whom she organized a sort of experimental workshop. (Taken from VCubadebate and translated by Escambray)
*CIMEQ (in Spanish): Medical and Surgical Investigations Center.