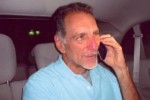 Cuba's daily Granma denounced the lack of action on the part of U.S. authorities in the face of death threats in Miami against Rene Gonzalez, one of the Five Cuban anti-terrorism fighters held in the U.S. since 1998.
An article in today's edition of the newspaper refers to two phone calls received recently by the popular Miami radio program 'La tarde se mueve,' during which two listeners publicly advocated violence and threatened to kill Rene, showing no fear of being arrested and/or prosecuted for their statements.
Rene Gonzalez was released from prison last October after completing an unjust 13-year term and has since been forced to remain in the United States, where he is serving an additional three-year probation.
The death threats against Rene took place after talk show host Edmundo García asked listeners to express their views on a new petition filed by Rene's lawyers, requesting that the conditions of his probation be modified so that he is allowed to return to Cuba.
The Granma article warns of the dangerous circumstances surrounding Rene in the U.S., especially in Miami, which is home to extremist groups and individuals that have long operated freely against Cuba with the tolerance and the complicity of U.S. authorities. (Taken from RHC)