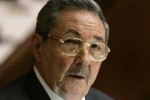 Cuban President Raul Castro arrived in Beijing for a four-day official visit to China, his first after taking office in 2008.
Raul was welcomed at the airport by the Chinese Foreign deputy Minister Zhang Zhijun, and Cuban ambassador to China Alberto Blanco, reported the Cuban National TV Newsreel.
During his visit Raul will meet with the Chinese President Hu Jintao and other local authorities. He is accompanied in this trip by Ricardo Cabrisas, vice-president of the Council of Ministers, and Bruno Rodriguez, Foreign Minister.
The Cuban President will travel to Vietnam after this visit.
Taken from AIN