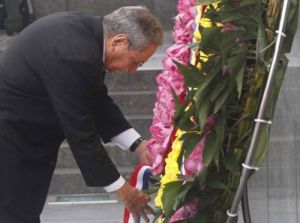 Cuban President, Raul Castro, paid tribute to late Vietnamese President Ho Chi Minh on Monday, laying a wreath of flowers at his mausoleum as he wrapped up a four-day state visit to the Asian nation.
During the presidential visit, aimed at boosting ties with Cuba's longtime friend, Raul met with the Vietnamese Communist Party chief Nguyen Phu Trong on Sunday at the presidential palace in Hanoi.
Voicing praise for the state of Vietnam-Cuba relations, Trong said he hoped President Castro's visit to Vietnam will contribute to elevating the traditional friendship, solidarity and fine cooperation between the two socialist nations.
For his part, Raul extolled the strong solidarity existing between both peoples and governments and their common positions on dissimilar international issues.
Official talks were also held with President Truong Tan Sang and Prime Minister Nguyen Tan Dung. On Monday he met with National Assembly chairman Nguyen Sinh Hung, and he was to wrap up his visit Tuesday morning.
Vietnam is the second and final leg of the Cuban President's Asian tour, who also took him to China last week, where he signed a series of economic agreements, aimed at promoting trade and investment with the world's second biggest economy.
Taken from Radio Havana Cuba