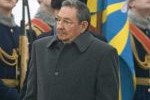 Cuban President Raul Castro Ruz arrived on Tuesday in Moscow on a working visit, after visiting China and Vietnam, reported the Cuban National TV Newsreel.
The report added that Raul will meet his Russian counterpart, Vladimir Putin and the European country's Premier, Dmitri Medvedev, during this official visit.
As part of the working agenda, Raul will also pay his respects at the Tomb of the Unknown Soldier and lay a wreath of flowers at the monument honoring revolutionary leader Vladimir Ilich Lenin.
The Cuban delegation is also made up of Ricardo Cabrisas Ruiz, Vice President of the Council of Ministers, and Bruno Rodriguez Parrilla,Minister of Foreign Affairs.
Raul flew from Vietnam where he completed a four-day official visit to Vietnam and a similar to China. This is Raul´s second visit to Russia since he took office in 2008
Taken from AIN