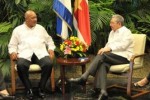 Cuban President Raul Castro held official talks on Sunday afternoon with his Surinamese counterpart Delano Bouterse, who pays a working visit to Cuba.
During the meeting, Raul Castro thanked, on behalf of the Cuban government and people, the support provided by Suriname after the onslaught of Hurricane Sandy.
Both leaders expressed their satisfaction over the state of relations and cooperation between the two countries and also discussed issues of bilateral and international relevance.
The distinguished visitor was accompanied by HE Mr. Winston Guno Lackin, Minister of Foreign Affairs, HE Michel Kerpens, secretary of the State Council and Director of the Cabinet of the Foreign Ministry, as well as HE Ike Desmond Antonius, Ambassador of Suriname in Cuba.
On the Cuban side, Esteban Lazo Hernandez, Vice President of the State Council; Marcelino Medina, Acting Foreign Minister, and Julio Solis Ferreiro, Ambassador of Cuba in Suriname also attended the meeting.