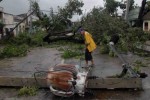 Cuba's President Raul Castro spoke over the phone with the presidents of the Councils of Defense of the country's eastern provinces to learn about the affectations caused by Hurricane Sandy.
Raul expressed his confidence on a fast recovery in those provinces and announced he will visit them in the next hours.
Hurricane Sandy crossed the eastern Cuba territory at some 30 kilometers per hour with sustained winds of over 175 kilometers per hour (115 mph), something unusual for hurricanes that have affected Cuban mountainous areas before.