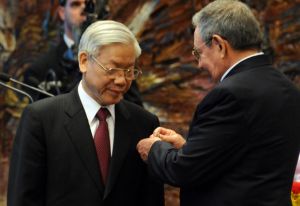 Cuban President Raul Castro met with the general secretary of the Communist Party of Vietnam, Nguyen Phu Trong, in the framework of his official and friendly visit to Cuba.
During the fraternal meeting on Monday, in tune with the historic relations between the two nations, both leaders exchanged viewpoints on international issues and the challenges of the two communist parties have to face in the construction of socialism, according to a press release.
Vietnamese Politburo member Pham Quang Nghi, Cuban First Vice President Jose Ramon Machado Ventura and other officials from the two countries also attended the meeting.
Shortly after the meeting, the Cuban president awarded Nguyen Phu Trong the Jose Marti Order, the highest decoration granted by the Cuban Council of State.
We were always together fighting for independence and freedom, and we are shoulder to shoulder today to build and defend socialism, stated the visitor, who also paid tribute to Cuban National Hero Jose Marti.
The agenda of the Vietnamese party leader, who is visiting Cuba until Thursday, also includes a meeting with authorities and his participation in activities of solidarity.
Vietnamese Leader Ho Chi Minh Honored in Cuba
The general secretary of the Communist Party of Vietnam, Nguyen Phu Trong, paid tribute to the revolutionary leader Ho Chi Minh in the park that bears his name in the Cuban capital.
During his visit to Cuba, the official laid a wreath at the monument to the former Vietnamese president, erected in a public square in a Havana neighborhood, where he talked with children, high school students and elderly people.
Ho Chi Minh is not only from Vietnam but also from this country and the world progressive people, like Cuban José Marti and Fidel Castro. Ho Chi Minh is a world leader recognized by UNESCO as a personality of humankind, he stated.
He said that in the outstanding fighter converge essence, determination and the ideals of the Asian nation.
The official also appreciated the construction of the monument by the community, the government and the Communist Party of Cuba.
In his opinion, the monument symbolizes the relations of friendship, solidarity, and mutual confidence between the two countries.
Taken from Prensa Latina