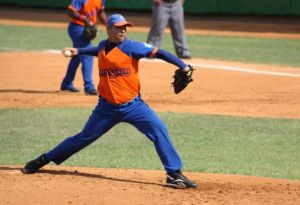 Roosters Ismel Jimenez, pitcher with most wins in the current season, and Eriel Sanchez's grand slam were key in Sancti Spiritus victory over "sensational" team in the tournament, the Crocodiles.
The triumph 6×1 marked the beginning of the playoff in the West zone between Sancti Spiritus and Matanzas.
Sancti Spiritus' ace got to master Victor Mesa's players offensive, third in the championship, through out the whole game, with the exception of catcher Lazaro Herrera who shot a solo homer in the 5th to tie actions at that moment.
Roosters fought back in the 6th and scored 5 times, 4 of which were brought over home plate by catcher Eriel Sanchez with a grand slam.
Roosters Ismel allowed only 5 hits, stroke out five men and gave only a walk to finally achieve his 18th win in the51st Cuban baseball national season, the best so far in his career. Thus, he was selected as the most valuable player in the game.
Sancti Spiritus best men were Eriel, who shot a single and a four-run homer while scoring once, Yuliesky Gourriel and Orlando Acebey (2 in 5, 1RBI, 1R) and Yenier Bello with two singles in 5 batting appearances and one run scored.
Actions will continue on Wednesday in Matanzas headquarters, the Victoria Giron Stadium and hurlers Angel Peña, for visitors, and Jorge Alberto Martinez , for hosts are to get on the box at 5:00 pm (local time).