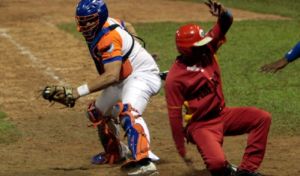 Another excellent performance by Matanzas Jorge Alberto Martinez led his team to semis in the West region by defeating 4×3 Sancti Spiritus Roosters, a squad eliminated once more in these key phase of the Cuban baseball seasons.
Doubles by center fielder Guillermo Heredia in the 5th, and first baseman Yasiel Santoya (ex-Rooster) in the 6th, in both cases with two men on bases, were enough to break the interesting duel between Sancti Spiritus and Matanzas aces, Ismel Jimenez and Jorge Alberto Martinez.
Sancti Spiritus fought back in the 7th with solo homer by designated hitter Yenier Bello, but the rebellion and greater threat took place in the 8th when Frederich Cepeda brought over home plate two runs with a single. However, Eriel Sanchez failed to bring the tie and advantage runs with the house full before reliever Joel Suarez.
Crocodiles manage to come from a 3×1 subseries behind by winning the last three games, thus, they will be facing Industriales Blue Lions in the West region's semi-finals and guarantee the third position in the general standings of the 51st Cuban baseball national season.
The victory of the Matanzas evidences an incredible progress as they were placed 14th in the previous season.
If Crocodiles entered history, Roosters have just repeated theirs, as they have qualified for playoffs since the 48th season but they have been unable to move on. Sancti Spiritus does not win the so-called "good" game and continues to owe a lot to their fans