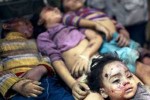 Cuba condemns Israel aggressions against  Palestinian people in the Gaza Strip.
The Cuban Movement for the Peace and Sovereignty of the Peoples reiterated its condemnation of Israel's brutal escalation of violence and death against the Palestinian people in the Gaza Strip.
In a statement published by the local media, the non-government organization expressed its most energetic rejection of such criminal acts and alerted that this aggression could become as lethal as Operation Cast Lead, which killed 400 people, most of them civilians, just four years ago.
The movement urged US President Barack Obama to withdraw his government's support of the actions unleashed by Israel, which are particularly being promoted by Prime Minister Benjamin Netanyahu.
Israel reinforced its attacks on Gaza with bombings that caused a building to collapse, whose debris buried an 11-member family, including four women and four kids, according to PL news agency.
The latest reports say that the death toll has reached 70 over the past five days, while the number of wounded people has surpassed 400.