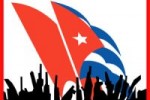 Workers of the Provincial Communist Party Committee in Sancti Spiritus and members of the  Municipal Committee, were honored on Monday in the Cuban central province, as part of the celebrations for Playa Giron victory.
Cuba's April, loaded with fervent patriotism, marked the event once more: workers of the Provincial Party Committee in Sancti Spiritus and its dependencies, as well as some members from the  Municipal Committee, were honored in the Serafin Sanchez Valdivia Revolution Square, for serving between five to 35 years in the political organization.
The ceremony opened with Cuba's National Anthem and then continued with the interpretation of the memorable piece Giron (prelude), by renowned Silvio Rodriguez. After stressing the significance of the first defeat of the imperialism in America 51 years ago, in an unequal battle where the enemy was unable to impose their neo-colonial designs, those gathered in the central square recalled the recently concluded Summit of the Americas, where the United States ended isolated from Latin American representatives on two key issues: the presence of Cuba in the continental event and the rights of Argentina over the Falkland Islands, for decades usurped to that sister nation.
Chaired by Jose Ramon Monteagudo Ruiz, top Party leader in Sancti Spiritus, the event was marked by the delivery of certificates to those who, for long periods of time have worked so unselfishly and exemplary, with the premise posed by Fidel many years ago about the immortality of the Party.
On behalf of the recipients, Maribel Toledo de Armas took the floor to proclaim the pride of serving a noble cause while stressing the commitment "to face new challenges with the same spirit through which our people welcomed the proclamation of the socialist character of our Revolution that April 16th , 1961. Working with intensity and discipline, she said, is the best tribute to those who fell in those heroic days. "
After the acknowledgements, Deyvis Perez Aquino, member of the Provincial Bureau of the Party, summed up the ceremony. The official made a historic journey through the emergence of the organization and its antecedents in the Cuban Revolutionary Party founded by Jose Marti, and stressed the principle of unity of all forces as a basic element in the achievement and consolidation of the various conquests throughout these 50 years. She also recalled details of the events leading up to the mercenary Bay of Pigs attack, as well as the significance of that victory for our historical development.
"These are tough times," she said, and then emphasized the need to continue addressing the most intelligent media campaigns that are unleashed to discredit Cuba and other Latin American countries where progressive governments are established by their people's will.