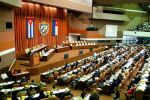 The Cuban Parliament's permanent commissions on Economic and Constitutional Affairs will gather July 20 and 22 to previously debate issues on the agenda of the 9th Session of Parliament to take place July 23rd.
According to Granma daily newspaper, the two commissions will give the finishing touches to a draft legislation on the Cuban Taxation System, which will be submitted to legislators during the ordinary session.
The deputies have maintained a permanent exchange of views on the different version of the document with the entities in charge of drawing it up, such as the Finance and Prices Ministry and the National Taxation Office. Other meetings on the draft resolution have included economists, specialists and deputies in different territories, in an effort to collect experience and opinions on the project.
The Commission on Economic Affairs will also analyze the performance of the economic plan and budget for the first half of the year and the implementation of the budget for 2011, two subjects on the agenda of the parliamentary session.
The deputies in commissions are scheduled to debate a draft Labor Code and they will address issues relevant to the upcoming Population and Housing Census, the Import-substitution program and the country's commercial balance, plus other issues.
The Commission on Constitutional and Juridical Affairs is will be considering a plan of
measures adopted against minor crimes, illegalities, social indiscipline and corruption. Also included on its agenda is the implementation of an agreement reached by the Parliament relevant to the administrative councils at the local people's assemblies in the western provinces of Artemisa and Mayabeque, as well as the regulations to grant subsides for those who need to undertake housing projects.
Other issues to be considered by the Commission include the implementation of a decree law on the usufruct-based lease of lands.
Taken from AIN