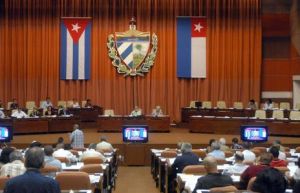 The draft legislations on the country's Economic Plan and State Budget for 2013 will be submitted to the consideration of the 10th Session of the Seventh Legislature of the Cuban National Assembly of People's Power.
The Assembly session will open December 13 at Havana's Conventions Palace, whose agenda also includes the ongoing implementation of the economic and social guidelines adopted by the 6th Congress of the Communist Party, Granma newspaper reported on Tuesday.
The presentation of the draft bills includes information on the economy and the budget performance in 2012. The two bills were approved by a recent meeting of the Council of Ministers and they will now be debated by deputies gathered in permanent commissions.
On December 10 and 11, the lawmakers will analyze issues relevant to their specific areas of work, along with government officials from different ministries.
On December 12, a plenary session will consider the performance of the ministries of Information Technologies and Communications, and Education, as well as the Cuban Institute of Radio and Television, Granma explains.
This parliament session will be the last one of the current seventh legislature, meaning that permanent commissions have included on their working agendas issues like the analysis of their mandate, which started in 2008.
The upcoming elections of deputies to the National Assembly for a five-year term, will take place February 3, 2013, as agreed to by the Cuban Council of State.