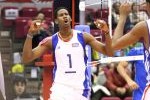 Cuban male volleyball team defeated Japan on Friday in its first appearance in the 23 Edition of the World League. The Cubans won in the Japanese city of Hamamatsu  with scores of 25-22, 28-26 and 25-20, after react in the second set, in which they were losing for a while.
Wilfredo Leon, the captain, was the main player of the Creole team, with 19 points, 17 on offence and two in service, while Fernando Hernandez was the second one with 15 points.
For the hosts, Tatsuya Fukuzawa shined with a score of 17 points, but they were insufficient to prevent their ninth loss in matches against Cuba in as many games they played in the history of this event.
Earlier in this same group A, the current champion, Russia, defeated Serbia 3-2, with scorecards of 25-21, 25-22, 19-25, 20-25 and 15-9.
Action will continue tomorrow at the same venue, with the meetings Cuba-Serbia and Russia- Japan.
Taken from Prensa Latina