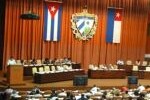 Cuban lawmakers began working meetings Thursday morning prior to the 9
th
Session of the Cuban Parliament's Seventh Legislature. The deputies are considering reports  on the performance of several state entities.
The agenda includes the reports by the Cuban National Bank, the National Water Resources Institute and the Higher Education Ministry.
The Parliament's permanent commissions will be working from Friday through Sunday on significant issues such as  the marketing of produce and construction materials, the performance of the healthcare system and the sector of services in general.
A major aspect is the report on results of actions aimed at to facing crime, illegalities, social indiscipline and corruption, which will be presented by the National Defense Commission.
A debate on the draft resolution improving the Cuban tax system is also included on the agenda of the 9th Session, slated to take place July 23 and 24.
During the session, deputies are scheduled to consider reports on the implementation of the guidelines approved by the 6 th Communist Party Congress last April 2011.
The parliamentarians will also address the performance of the 2001 state budget and the implementation of the economic plan and budget for the first half of 2012. The Public Health Minister will submit its report to the deputies.
Taken from AIN