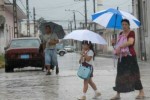 Cuban people will be able to receive subsidies from the government as from 15 January to purchase building materials and pay for labor to start, repair or rehabilitate housing, according to a publication of the Official Gazette on Wednesday.The measure responds to Guideline 229 approved by the Sixth Congress of the Communist Party of Cuba, which expressed the decision to provide subsidies.
That measure also responds to the government's decision to eliminate excessive and unnecessary subsidies and to assist only those that need it.
The initiative will benefit mainly families affected by catastrophes or natural disasters, and also critical social cases, particularly those living in vulnerable conditions and without economic solvency.
People can apply to the housing department of every municipality, and once awarded the grant, the beneficiary is obliged by signing a contract to repair the home in accordance with the agreement, informed the Gazette.