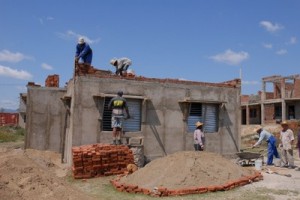 The execution of new properties, both by the state and by "own or individual effort", as well as the improvement of the housing stock in the territory, are the main objectives of Sancti Spiritus Housing System in 2012, with figures quite similar to those of the previous year.
According to Director Maylin Cardoso Caballero the commitment of state-run entities rounds the 981 buildings, whereas that of individual effort are to get to 1300, aided by the recent cut in 122 construction materials.
At the beginning of the year 2011, Cuba set a program aimed at establishing structural and conceptual changes in the economic model, which involved also housing construction, one of the critical matters yet to be solved in this territory through the selling of the necessary materials.
As for the specialists, they account of the 400 supplies that are to be provided in 2012, which will be commercialized in accordance with the population acquisitions markets, such as the authorization of credits and state subsidies to be approved by the corresponding banking branch in each territory.
The amelioration of the housing stock, with a 30% in regular or bad conditions, constitutes also a top priority in the current year.  (Translated by Escambray)