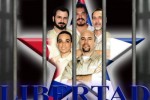 The letter was read during the opening session of the   meeting.
The five Cuban anti-terrorist fighters held in the United States sent a letter to the 15th European Solidarity-with-Cuba forum underway in Berlin, Germany.
The letter, which was read at the opening session of the solidarity encounter, expressed the deepest feelings of the five Cubans about the difficulties being faced by the representatives in their countries, given the current economic crisis.
Elizabeth Palmeiro, wife of Ramon Labañino — one of the Cubans in U.S. prisons — read the letter, which also stresses the support by participants at the forum and other European people of just and noble causes of other nations around the world.
Ramon Labañino, along with Antonio Guerrero, Fernando González, Gerardo Hernández and René González were given extremely long sentences in the United States back in 2001, after they monitored violent organizations that organized and carried out terrorist actions against the Cuban people.
After recalling the difficult economic situation facing Europe, the five Cubans underscored the extraordinary efforts made by the activists to hold their forum, which is part of the struggle for life, peace, a better world without wars and for a good future for humanity — united by the Cuban cause.