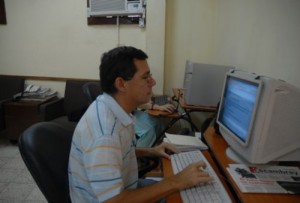 Escambray weekly journalists suggested to award Ramón, Gerardo, René, Fernando and Antonio with the Dignity Prize, which is exceptionally granted by the Union of Cuban Journalists (UPEC, in Spanish).
The statement was made known during the meeting held in this entity prior to the IX UPEC Congress, to be held in July, next year.
The participation of the journalists in their weekly agenda, their professionalism, and their access to the information were some of the most debated issues.
The meeting was attended by UPEC Vice President Bárbara Doval, and Central Committee Department official Yusaima Cardona, along with other local UPEC and Party leaders.