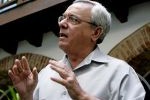 Havana City Historian Eusebio Leal began on Thursday a two-day visit to Washington, where he will give lectures and tour facilities linked to history and art in the US capital.
On Thursday, Leal toured the Smithsonian Institution, the Center for Folklife and Cultural Heritage, and the National Museum of the American Indian, among others.
During his stay in this city, the head of the restoration program of Havana's historic area, will give lectures and will hold private meetings, the www.cubaminrex.cu Web site reported.
On Friday, the renowned intellectual and researcher will speak at the Brookings Institution and will meet with executives of that well-known organization, dedicated to the study of public policies.
Leal arrived in Washington from New York, where he had been invited by that city's Public Library.
Previously, Leal, also a UN Good Will Ambassador, visited the headquarters of that
organization and had a courtesy meeting with UN Secretary General Ban Ki-moon.
The Havana City Historian will leave Washington on Saturday.   (Taken from ACN)