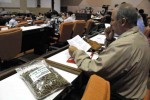 The Economic Plan and State Budget for 2013 have been drawn up in tune with the country's current economic reality, said deputy Finance and Price minister Rogelio Martinez.
Addressing the Parliament's Health and Sports Commission on Monday, the deputy minister said that the economic strategy favors a major production of goods and services in tune with economic needs and the challenges faced by Cuba in implementing a new economic management model.
The official recalled that a new tax law will progressively get in force as of January, particularly affecting personal income, gains and the hiring of labor, among other aspects.
He said Cuban economy will grow 3.1 percent this year, below the scheduled 3.4 percent, but the results are positive because the implementation of the economic and social guidelines, approved by the Cuban Communist Party, begins to be take place.
Presided over by Jorge Gonzalez, the commission also addressed the work done over the past six months. The lawmakers referred to the restructuring of  the primary healthcare system, the Child and Mother Attention program, the program of Cuban doctors in other countries and the epidemiological situation.
The commission continues in session on Tuesday, as part of meetings by all 12 parliament commissions, prior to the 10th Session of the National Assembly of People's Power to take place on Thursday.