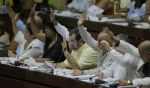 Cuban deputies viewed the previous sessions of the 9th Ordinary Session Period of the National Assembly (Parliament) as very productive today, after debating many economic and social topics.
Interviewed by Prensa Latina, members of the National Assembly expressed that debates in the 12 permanent working commissions, discussing topics such as public health, education, economy, food security, tourism and communications, had been very useful.
Some minutes before the start of the Monday session at the Havana Convention Center, Cuban legislators were also pleased with the discussions on other important topics, such as energy, environment, defense and foreign policy.
Sergio Rodriguez, a member of the food security commission, said that the discussions in the four days of debates are vital to the continuing design of the new Cuban strategy.
Rodriguez said that from an economic point of view the debate on the new Tax System Law has been significant, as well as the information provided by ministries like the Cuban Higher Education Ministry.
Cuban deputy Benedicto Peña, from the Commission for the Attention to Services, said the main objective is to deal with topics directly impacting the Cuban population.
Speaking of the Tax System, he said that work had been done beforehand in all the Cuban provinces, and deputies had the chance to give their opinions and make modifications to the proposal.
The law underway includes the possibility to modify and regulate a group of fiscal benefits to stimulate growth and development for sectors and economic activities.
The agenda for the plenary session includes a revision to the process for the implementation of the agreements taken at the 6th Congress of the Cuban Communist Party (PCC) and the presentation of the report to close out the governmental budget for 2011.
The Plan for the National Economy and Budget will also be analyzed, and the Ministry of Public Health will give a report on its work.
Taken from Prensa Latina