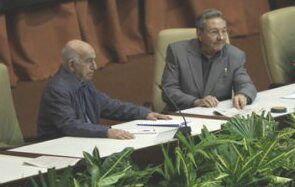 The First National Conference of the Communist Party of Cuba (PCC) was started this Saturday, presided over by Raul Castro, first secretary general of that political organization.The opening speech was delivered by Jose Ramon Machado Ventura, second secretary of the Party's Central Committee.
According to the meeting's agenda, participating delegates will assess, with objectivity and critical approach, the performance of the political organization.
The draft document to be discussed at the event, whose last version was published in October, was debated in over 65 000 meetings by members of  the Communist Party and the Young Communist League. More than one million opinions stemmed from such discussion, which resulted in the modification of 78 out of 96 main objectives, and the addition of another five issues.
All 811 delegates to the Conference already analyzed, at territorial gatherings held in early January, the proposed modifications.
The opening of the Conference on January 28th constituted a tribute by all Cuban communists to National Hero Jose Marti on the 159th anniversary of his birth. (Taken from RHC).