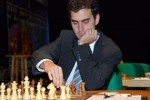 The Cuban Chess Federation is celebrating the beginning of 2012 with the Latin American record of Leinier Dominguez and the inclusion of Oleiny Linares and Lisandra Ordaz among the top 100 females.
The news of the updated chess world ranking was greeted with much jubilation by the Cuban people, AIN Agency remarked.
Dominguez improved his previous ELO by 18 points to reach 2,730 registered as his personal best and valid for going up from 32 to 21 in world ranking.
Taken from Prensa Latina