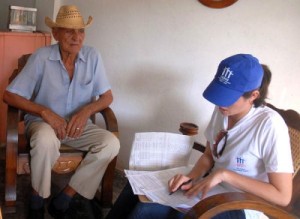 Thousands of people, mostly young people of the island's student centers, make possible in Sancti Spiritus, the fourth version of the Population and Housing Census during the Cuban Revolution period, which began throughout the country last Saturday.
By Oscar Alfonso Sosa
Some 2500 enumerators, mainly students from universities and technical schools, and more than 800 supervisors work in the collection and processing of data, which is considered a very complex exercise of statistical research needing of the cooperation of the population for its total success.
Those responsible for the inquiry insist that the questionnaire responses are not taken as declaration therefore no documentary evidence of the information provided is requested, and no inspection or verification is carried out.
The questions should be answered by whoever is in charged of the house or an adult acting as representative, without excluding the participation of other household members who live permanently in the house.
This statistic research, the number 18 of its kind in Cuba, sheds light on the demographic, economic and educational features of the country, which should constitute a basic source for the adoption and implementation of development strategies by the Cuban state.
The previous census in 2002 was considered the starting point for making decisions related to programs for energy conservation and efficiency, the construction and rehabilitation of dwellings, and a better care for the elderly, among others.
[nggallery id=31]