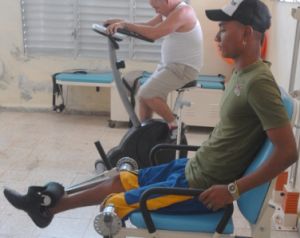 After spending over 100 days in total immobility, without swallowing any food or breathe on its own, a young boy from Yaguajay, in northern Sancti Spiritus, is declared winner for the seocnd time over the Guillain-Barre Syndrome.
When at six o'clock in the morning he felt an unusual force tightening his throat, without letting him swallow, and an inexplicable weakness when jumping from the bunk, Randy Garcia Delgado did not need more signs to confirm what he had already suspected from the early morning hours.
"Let's hurry to the hospital, I know very well what I have," he told his friends from the High School Martires de Yaguajay (Yaguajay Martyrs), in Centeno, who could not understand for sure the insistence of the boy.
He walked into the Provincial Hospital Camilo Cienfuegos, in Sancti Spiritus (central Cuba) on June 4th, 2008 and even in the room, never suspecting the ordeal due to come in hours, he asked the nurses not to put probes on him beacause "it was not so serious."
The Guillain-Barre syndrome he had suffered six years ago, long calculated in silent by him and his mother, was immediately confirmed, a recurrence that Dr. Rodolfo Rodriguez Gomez, specialist in Intensive Care and Emergency, defined as "extremely rare".
RESPONSE THROUGH EYES
The peripheral manifestations of the disease-lack of strength and muscle control-began to mount, and in just a few hours, the specialists had a fairly comprehensive picture worsened which forced them to fight for more than 100 days complications of all kinds.
"Randy answered me with his eyes," recalls his mother Marite Delgado, evoking the total immobility caused by the disease for three and a half months, a period in which he obviously could not eat and was kept alive by mechanical ventilation nutrition and techniques used in the intensive care unit.
"He had what is known as Landry's ascending paralysis, explains Dr. Rodolfo, current head of the Provincial Emergency and Critical Care Group, which translates into a loss of muscle strength that progresses from the bottom to the upper body and in its way also paralyzes the respiratory muscles and lead the patient to a failure of neuromuscular origin, ie that he has no strength to breathe. "
As if that were not sufficiently severe, intermittent relapses and even gastrointestinal bleeding that required multiple transfusions kept the team of doctors and the family on suspense until finally the patient was showing signs of recovery and first cocked his head, a signal of strength her mother compared to the birth itself.
Then came the decoupling of artificial ventilation systems, a chapter that Randy Garcia has learned to describe as the best screenwriter ever:
"There was a doctor who checked upon me constantly, Pavel Nodarse. He was very flexible, and had a great faith so he did not forced my recovery, but one day Dr. Lopez arrived and told me my previous physician was very weak and he needed to work harder and prepare me, because at noon I was going to be removed the breathing apparatus.
Pavel always took it off a while and stayed there, watching over me, but Lopez took it off and said, 'you will see that you will breathe' and so he left. I did not understand at that time that he was doing the right thing, and as 15 minutes passed, I had started feeling very anxious and nervous, and asked a nurse to put it on me for a while. She said, 'I'll get it to you but only for 10 minutes, if the doctor comes and scolds me I have to take it off', then I got angry and told her not to do it, then I regretted it and she put it  a while and removed it later. At last,  I fell asleep and when I woke up I did not need it anymore. "
RANDY'S VITAL SUPPORT

After 20 years working as a nurse, Marite Delgado was not quite ready for a "graduate" on more than 100 days in intensive care, let alone with your child's life at stake, an episode that four years later she has not been able to erase from her mind.
"When I learned that the syndrome was attacking a second time, I always had hopes as a mother, but as a nurse I knew we were fighting a very tough disease with a prognosis fairly reserved and following the course of events: the days passed, my son could not move, could not breathe on its own, well, you can imagine", she says.
"My parents were always with me, certifies Randy, my dad outside the rooms, and my mom inside. She conveyed a lot of confidence, I always had great faith, even when we learned that the syndrome was being repeated; he was so much affected that still at present day you can not even knock the door roughly, because he gets very nervous. "
Yohandra Caballero, head of Nursing in the Intensive ward qualifies as heroic work that of Marite and Boris, the father, in the boy's recovery: "In these cases this is really important for the psychological support, the food, and even the physiotherapy, and Randy had it all to one hundred percent. "
I WANT TO BE A HELPFUL PERSON

Neither the zeal of the doctors who came to be 10 around his bed, nor the technical means, nor the last generation of antibiotics, which were always punctual, not even the pleas of the mother to try him to breathe on his own after 100 days with artificial ventilation would have been sufficient to lift Randy if he had not had the will to face the disease.
"Despite his youth, he has always been very optimistic and cooperative, with great desire to live. The disease has never beaten him and despite the psychological treatment, his attitude helped him a lot," says Yohandra.
Now, sitting in the chair of the quadriceps at the polyclinic Camilo Cienfuegos, in Yaguajay, Randy Garcia is looking forward to, with the same disposition that won twice over the Guillain-Barre syndrome, give life to another victory: complete recovery.
How are you being treated?, asks Escambray.
Since I left the Rehabilitation Hospital I have a treatment at the polyclinic which also includes exercises, running, massage and stretching, working with the quads, bikes and a training for coordination with occupational therapy.
What about your social life?
I go out a lot, every weekend I go to the street, everywhere. I rarely stay at home, I spend the day biking around the village. It has helped my mood a lot, I'm very happy.
What are your plans when you complete your recovery?
I finished the twelfth grade at the School, I did a computer course and now I want to enroll in a massager's. I was told also that a new school for tourism students would open and I'll try to enter to learn because I want to be a useful person.