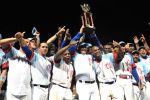 Cuba has a new baseball champion. Ciego de Avila obtained a 4×3 victory over Industriales thanks to golden hit by left fielder Ricardo Bordon in the 11th inning, and thus got the title of the 51st season.
Tigers won the general subseries 4-1 in final game that lasted more than four hours and before 10 thousand fans who packed the Jose Ramon Cepero Stadium, some 55o km East from Havana.
Reliever Lazaro Santana managed to take the last two outs and was credited the victory. Starter Yander Guevara showed immense control and combined greatly his pitches, allowing 7 hits, 3 runs and strinking out 6 rivals in 10 chapters.
Loser Julio Montesinos allowed only one hit and a run, and stroke out one adversary in 2 innings.
Yoelvis Fiss shot 2 doubles, and brought over home plate 3 of the 4 runs scored. Ricardo Bordon went for 3 in 5, and shot the golden hit, the title single.
Lions best men were Yoandri Urgelles who shot a homer with one man on base and Irakli Chirino who brought the tie to 3 runs in the 7th.
Ciego de Avila got crowned for the first time ever in Cuban baseball history, as in last year's final they lost 4-2 to Pinar del Rio. This time's losing team, Industriales, is the squad with most titles in Cuba (12).
Taken from Cubadebate/Translated by Escambray