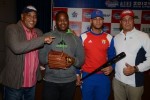 The Cuban baseball national team will have five friendly matches against teams from Chinese Taipei and Japan to test its tactical thinking facing the III World Baseball Classics scheduled for March 2013.
The Cuban team, coached by Victor Mesa and Jorge Fuentes, on this Asian tour, is made of 29 players distributed in three catchers, nine infielders, six outfielders and eleven pitchers.
Cubans will play three matches against the Chinese Taipei national team, and a team composed of professionals on November 10, 11 and 13 in what is called Thunder Series, later they will face Japan on November 16 and 18.
The Cuban list of players contains more than 80 percent of the ones who were at the II World Baseball Classic, and from the list stand out Yulieski Gourriel, Frederich Cepeda and Yadier Pedroso, and also the prospectuses Yasmani Tomas, Rusney Castillo, Erisbel Arruebarruena, Guillermo Heredia, Freddy Asiel Alvarez , Vladimir
Garcia, Odrisamer Despaigne and Darien Nuñez.
Other known players are catcher Ariel Pestano, lefty reliever Norberto Gonzalez, third baseman Michel Enriquez, outfielder Alexei Bell and the sluggers Jose Dariel Abreu and Alfredo Despaigne, who holds the record for homers in a Cuban baseball season.
The squad is completed by the catchers Frank Camilo Morejon and Yulexis La Rosa, infielders Alexander Malleta, Juan Carlos Torriente,  Jose Miguel Fernandez, Yordan Manduley and Yurisbel Gracial, and pitchers Dalier Hinojosa, Ismel Jimenez, Pablo Millan Fernandez, Leandro Martinez and Yoanni Yera.
These training games complete the competitive international calendar of the Cuban baseball team in 2012 , which also included training matches against Nicaragua, the United States and Mexican teams, in addition to a participation in the traditional tournament in the Dutch city of Haarlem.
The III World Baseball Classic seems vital for Cubans. A bad result in that contest would wreck 11 million dreams and wouldn't support the idea that Cuba is one of the best in world's baseball.
Cuba's best performance in World Baseball Classics, was in 2006, when they lost 6-10 to Japan in the final, an unforgettable match won by the right-hander of the Boston Red Sox Daisuke "Dice" Matsuzaka.
Cuba was drawn in Group A in that upcoming tournament along with China, Japan and a team yet to be defined, which is among the trio Spain-Canada-Panama.