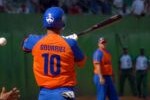 After the break "imposed" due to the new calendar of the 51st Cuban Baseball National Season, Sancti Spiritus is to face Camaguey during the weekend in the Jose Antonio Huelga Stadium, home to Roosters.
By Elsa Ramos Ramirez
Sancti Spiritus Roosters must regain the victory path as they have lost three subseries in a row in the beginning of 2012 before Industriales Lions, Artemisa Hunters and Cienfuegos Elephants.
Ruperto Zamora's players are currently placed 5th in the Western region standings with a 16-17 record, and seven games away from leader Matanzas.
The offensive seemed to awake in the last three-game series played as the average rose to 281, but it is not as efficient as needed. From the third to the sixth in the roster have left on base 90% of all men in scoring position.
From the individual point of view, Yunier Mendoza outstands with a 368 ave, being among the first in hits (49), runs scored (25) and doubles (11). Yulieski Gourriel (326 ave) is also among the first in runs brought in (37), homeruns (9), slugging (589) and times to bring in tie or victory (9).
Defence has began to stabilize though it is still the worst of the championship with 961 ave. Catchers, for instance, have an adverse average of stolen bases (15) and caught while steeling (14). In the previous season only two bases were stolen to Roosters' catchers.
The pitching area is better than the 50's championship with Ismel Jimenez (6w-1d, 70, 2 innings, 2, 42 ERA, and 47 strike out) leading the staff, but Sancti Spiritus lacks a natural closer to guarantee victory.
Roosters have reinvented themselves after the absence of three key men in their roster: the first batter and center fielder Robersis "Taxi" Ramos, the third batter and left fielder Frederich Cepeda Cruz, and the first pinch-hitter and also an outfielder Duniesky Barroso.