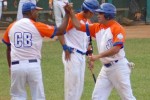 Combined pitching from experienced Noelvis Hernandez, young Javier Vazquez and rookies Yandri Matos and Yoanni Hernandez, plus 3-RBI homer by Eriel Sanchez, led Sancti Spiritus Roosters to their first sweep in the current series.
What seemed a duel between pitchers Jonder Martinez and Noelvis Hernandez, ended with the explosion of Artemisa's hurler in the 4th when Eriel Sanchez blast a 3-RBI home run.
Sancti Spiritus scored tow more times in the 5th and 6th innings thanks to singles by Yunier Mendoza and Lourdes Gourriel. Nine man in the roster, Orlando Acebey, was the best batter for his team (4-4).
After two games in which their offense was silenced, Roosters shot 14 hits in the closing encounter of the subseries to finally get their first sweep in the tourney.
Noelvis Hernandez was the winning pitcher, and Jonder Martinez took the loss.
With 6 wins and 3 defeats, Roosters will continue to play as visitors vs Matanzas, in the Victoria de Giron Stadium during Sunday, Tuesday and Wednesday.