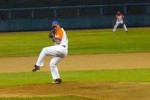 With the first triple play of Cuba's 52 baseball national season, Sancti Spiritus Roosters beat Las Tunas in a heartbreaking encounter with 5×3 score in 14 innings.
With superb pitching of Noelvis Hernandez and favorable score 2×0 for Roosters, manager Yovani Aragon sent closer Omar Guardarrama to the box, but the young hurler allowed the tie in th 9th and gave way to lefty Javier Vazquez, who killed his rivals' menace and sent the game to extrainning.
Vazquez, with only one season of experience, was as solid as member of the Cuban preselection Carlos Juan Viera.
Under controversial IBAF rule, Sancti Spiritus score in the 13th, followed by Las Tunas tie. However, rookie Lester Lopez brought over home plate two teammates to score the decisive runs in the 14th. In an attempt to level the game, rivals were surprised by a triple play, as Roosters' shortstop caught a ball and forced in 2nd and 1st base.
With the result, Noelvis Hernandez is the new ERA leader, and Vazquez consolidated as the best reliever for Roosters with 10, 2 innings worked, 13 strike outs, and average of 208.
Another important result of yesterday games is that Isla de la Juventud continues to surprise and secured the subseries vs Pinar, and got to lead the standings with 12-5 record.