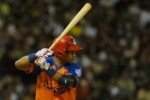 Two-runs homer by Frederich Cepeda and effective pitching led Sancti Spiritus to a victory 4×1 over Artemisa in the beginning of the 3rd subseries of Cuba's 52 national season.
Roosters' international player broke the duel held between his teammate, lefty Yamichel Perez, and a former member of Cuba's national team Yulieski Gonzalez, in a game with scarce offense in which each squad shot only 5 hits.
Hunters Victor Muñoz hit a solo homer in the 8th before Sancti Spiritus reliever Yoen Socarras and avoid a possible shutout to his team.
Yovani Aragon players managed to score two more runs on the 9th thanks to double by Yunieski Gourriel, who went for 4-2 in the game.
Sancti Spiritus presents 4 wins and 3 defeats and will continue to play vs. Artemisa until Friday in the 26 de Julio Stadium.
The rest of the games were as followed: Granma-Isla de la Juventud (13-5), Camaguey-Santiago de Cuba (4×2), Guantanamo-Pinar del Rio (5-2), Holguin-Mayabeque (6×5), Industriales-Las Tunas (3×1), and Cienfuegos-Villa Clara (3×1)