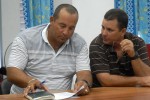 Sancti Spiritus baseball team for the upcoming 52nd national season was officially announced Thursday afternnoon. The team combines experience and talented youth, though eight rookies for this new structure seems a lot.
According to the Cuban News Agency, experienced Eriel Sanchez will be the main asset in the catchers area, as Yenier Bello was out of the roster due to indiscipline. Sefer Rios, and rookie Yoandi Suarez will accompany Sanchez.
The infield will be played by Yulieski Gourriel, Yunier Mendoza, Orlando Acebey, Lourdes Yunielkis Gourriel, Raikel Morales, Yoandy Baguet, Guillermo Gonzalez  and first timers Daviel Gomez and Lester Lopez.
The outfields are to be guarded by Frederich Cepeda, Yuniesky Gourriel, Livan Monteagudo, Robersis Ramos, Dunieski Barroso, and Jorge Ruiz, as the novelty.
The hurlers staff is composed of Ismel Jimenez, Angel Peña, Noelvis Hernandez, Yoen Socarras, Yamichel Perez, Yaniel Sosa, Javier Vazquez,  Yoharisleivis Panama  and Omar Guadarrama.
Rookies Yoanni Hernandez, Yoandri Perez,  Yandri Matos and Carlos Sierra are to get on the box too.
Yovani Aragon will make his debut as manager of Roosters, along with assistant coaches Lazaro Martinez and Irolando Ulloa, while Juan de Dios Peña and Roberto Ramos will be the pitching trainers.
Sancti Spiritus baseball team ended in the 8th position of Cuba's previous season, and it is a must they go for the victory since the very first game to get included among the best eight in the country, and continue to the second phase.
TRANSLATED BY ESCAMBRAY